SQLCipher Commercial Edition provides quick, easy, and officially supported packages for integrating SQLCipher with applications, featuring:
Commercial Edition packages are delivered immediately from the Zetetic Store. Trial versions of SQLCipher Commercial Edition packages are also made available upon request. Verify the integrity of the package you download with their corresponding digital signatures here.
SQLCipher Enterprise Program
The SQLCipher Enterprise Program provides additional flexibility for organizations with special requirements through a customizable annual subscription licensing and support bundle. Each SQLCipher Enterprise solution is tailored to customer-specific needs, and may optionally include:
Additional enterprise-only features, e.g. FIPS 140-2 support
Suite licensing (i.e., all mobile, all desktop platforms)
Guaranteed support SLA and extended priority support options
Redistribution licensing including SDK distributions
Transferable licensing
Standard SQLCipher platform packages
Specialty platforms like SQLCipher for Cordova, SQLCipher for JDBC, and Apple WatchKit
Customized builds and enhancements
Flexible license terms
Additional procurement and payment options (e.g. PO, Wire Transfer, etc.)
Please contact us for further information and to schedule a consultation.
SQLCipher Graphical Management Interface
Users often need to interact with SQLCipher encrypted databases outside of application code for testing, database development, and troubleshooting. Many of the SQLCipher Commercial Edition packages include a pre-built command line shell that can be used to manipulate SQLCipher databases from a desktop computer. However, while powerful, some users prefer the experience of a native, graphical, desktop application over a command line shell tool.
For these cases, SQLiteManager from SQLabs provides a popular and feature-rich database management studio with native support for SQLCipher encrypted databases.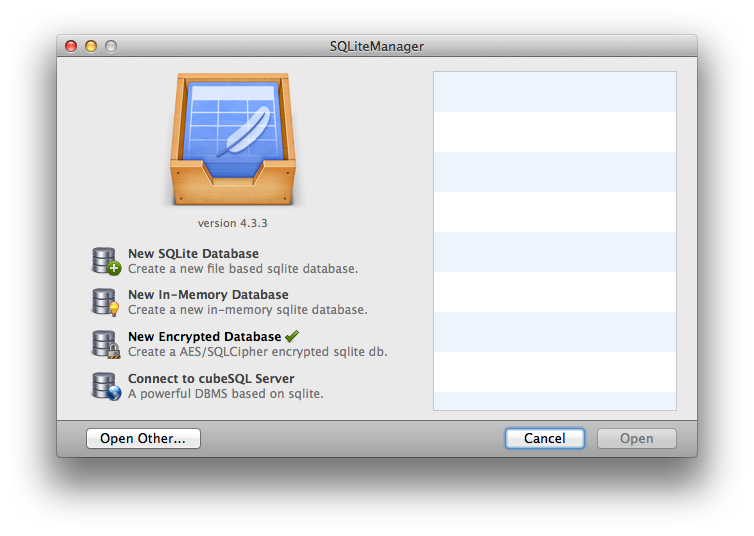 SQLiteManager includes a suite of advanced features for SQLCipher database management, like query execution, inline editing with syntax highlighting, table / schema editing, charting, and data import / export. It supports both Windows and Mac OS X.
If you need a user friendly and graphical interface for SQLCipher, please check out SQLiteManager today. When you purchase SQLiteManager using the Buy button below, you will help support the ongoing development of the SQLCipher project.
---