We're excited to announce the release of STRIP 2, our most significant version yet, featuring several new features, bug fixes, and strengthened database security. Some of our favorite new features include:
Sync via Google Drive
A brand new iPad application
Auto-lock for STRIP for Windows and STRIP for OS X
Configurable field masking to hide sensitive data from view
40 brand new professionally designed icons
Improved synchronization speed
Improved database security and tamper resistance
Many other improvements and bug fixes
The new version of STRIP is available immediately for all platforms: iPhone, iPad, Android, Windows, and OS X. Read on for a full list of changes.
Introducing STRIP for iPad
We're especially proud to release a new native version of STRIP for the iPad, with all features optimized for your tablet's interface.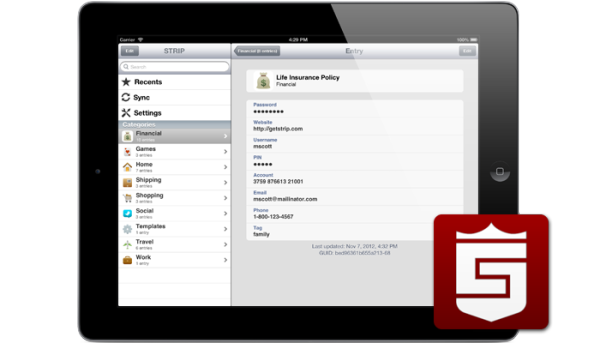 Checkout STRIP for iPad in the iTunes App Store
Important Note: STRIP for iPad is available as an optional separate purchase from the App Store. Please be assured that we are still very committed to STRIP for iPhone, which has received all of the same feature updates in STRIP 2, still works on the iPad, and will continue to be a core supported STRIP platform.
Important Upgrade Notes
Instructions for updating each STRIP are available on our FAQ.
Please backup your mobile devices and desktop databases before upgrading, either via WiFi or Dropbox.
After the upgrade, password and PIN fields will be masked by default using dots to hide your most sensitive data from onlookers. You can quickly reveal these values, copy them to the clipboard, or disable this feature globally. Learn More about Masking »
To improve security and accomodate service updates you will need to reconfigure Desktop synchronization in OSX and Windows under the Preferences Window after upgrading. Learn More about Syncing »
When you log in to STRIP 2 for the first time the database format will be updated. Due to database file and feature improvements, STRIP 1.x will not sync with STRIP 2. Therefore, you should plan to update all of your devices and applications to STRIP 2 at around the same time. More information is available on our upgrade FAQ.
Goodbye, StripSync
Finally, we must announce the final end of support for StripSync, the old and venerable backup application that was officially retired in May 2012. While StripSync continued to work over the past year, the new version of STRIP breaks compatibility in order to provide new features and security improvements.
STRIP mobile customers using StripSync can now backup and synchronize multiple devices for free using Google Drive or Dropbox. Users interested in a desktop application are encouraged to check out STRIP for Windows and STRIP for OS X which provide a full-featured editing interface plus support for both WiFi and cloud synchronization. Learn more about replacing Strip Sync ».
We're Here to Help
This release has been under development for a long time, and we appreciate your patience! Please let us know if you have any questions about the upgrade process, how you like new version, or if you run into any issues at
support@zetetic.net
.
Full List of Changes
Here is a full list of all the changes in the new version.
STRIP for Windows and OS X
Sync with Google Drive or Local Folder
Optional masking and hiding of fields from display (automatically enabled for passwords and PINs)
Automatic lock when not in use (configurable in Preferences)
New field control with options to create new labels and random values
Improved long note editing and line breaks
Right-click on fields for quick access Context menu with Copy, Delete, Hide / Show, and Random generator options
New random password generator available
40 new professionally designed icons
Enables new database security features (tamper resistence via per-page HMAC protection)
Allows renaming of backup files in Backups
Optional OS X notification when STRIP locks automatically
Integrity Check detects and fixes missing local replica ID
Quick "Lock Now" hotkey and menu item
New Sync options, Menu, and Preferences
WiFi sync service no longer enabled by default, see Preferences to enable
Fix: Height of note field is properly redrawn to fit content of note field after editing
Fix: Launch web URLs entered without leading "http://" scheme
Fix: Errors during backup include actual error message
Fix: Integrity Check adds entry records to the Unfiled category
Fix: Re-ordering of fields on edit is now saved immediately
Fix: Sort labels by name in Customize Labels
Fix: Non-default backup preference is retained
Fix: Diacritic characters in password no longer cause authentication failure during WiFi sync
Fix: Allows large note field editing on Mac OS X 10.6
Fix: Command+Q will quit STRIP for OS X even when when application is locked
STRIP for iPhone and Android
New option to sync with Google Drive
Optional masking and hiding of fields from display (automatically enabled for passwords and PINs)
Improved random password generator
40 new professionally designed icons
Quick "Lock Now" button added to Preferences
Remembers manually entered Sync addresses and hostnames
New alternate font display preference
Enables new database security features (tamper resistence via per-page HMAC protection)
Displays preview of note fields on entry view
Improved sync performance
blog comments powered by