We are proud to annouce that STRIP for Android, the secure password manager and data vault, is now available in the Google Play store!
STRIP has been protecting data on mobile devices since 1998, and we've continued to evolve the product over the years to run on iOS, Mac, Windows, and now Android. Like its peers, STRIP for Android has many advanced features and the best security available: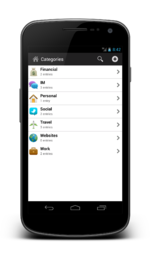 STRIP for Android
A flexible data format that allows you to organize your information how you want into categories, entries and fields (you can even create your own labels and specify their data type)
Full text search, providing quick access to find data where ever you are in the application
Synchronization via Dropbox and replication out to STRIP for Windows and STRIP for OSX (also ensuring that a reliable data backup is always available)
A secure random password generator
Assignment of icons to entries and categories for easy visual identification
Launch websites, dial phone numbers and address emails
Most importantly, STRIP for Android features complete data encryption, protecting your most valuable information with SQLCipher. An open source extension to SQLite, SQLCipher uses 256-bit AES to encrypt the entire application database. We began the process of porting SQLCipher to Android late last year in conjunction with The Guardian Project to ensure a stable and secure platform, before even starting work on STRIP for Android. SQLCipher has been independently reviewed by many security professionals; for instance Elcomsoft presented findings about STRIP at the BlackHatEU conference, concluding that the application backed by SQLCipher was the "the most resilient to password cracking".
If you are looking for a password and data manager on the Android platform that provides a high degree of security and user flexibility, check out STRIP for Android and let us know what you think.
blog comments powered by