In ElcomSoft's recent presentation demonstrating attacks on popular password managers, the researchers discovered an optimized brute force attack against 1Password due to the use of PKCS7 padding and lack of key strengthening. They suggest that this flaw makes it easy to brute force 1Password, unless a sufficiently complex password is used (e.g. that it would take less than a day to crack a 14 digit numeric or 7 character, fully random and alphanumeric password).
1Password is a popular and flexible application. They have rapidly responded to the concerns, encouraging the use of stronger passwords with the tool, planning to plug gaps by eliminating the use of PKCS7, adding PBKDF2 key derivation, and ensuring that all data is encrypted with the master key. These are excellent steps that should help to strengthen 1Password against brute force attacks.
Despite these planned changes, we've recently seen increased interest from users wanting to migrate data to STRIP because it was recognized at the same conference as the "most resilient to password cracking" and one of the only applications that properly implemented strong cryptography. As a result, we've expanded our previously announced Strip conversion tool to provide simple migration of 1Password exports.
The Convert to STRIP utility is free to use and runs on Windows and Mac OS X. This process assumes that you have already downloaded and installed STRIP Desktop or STRIP Sync and the Conversion tool. Once you have migrated the data on your desktop you can simply sync with STRIP for iOS to get the data onto your mobile device.
Convert to STRIP for Windows »
Export the 1Password data
Launch 1Password and login. Once the application is unlocked, go to the application's File menu, select Export All -> 1Password Interchange File.... In the dialog that appears, you can keep the suggested name for the file, click on Where to select your Desktop, and then Export.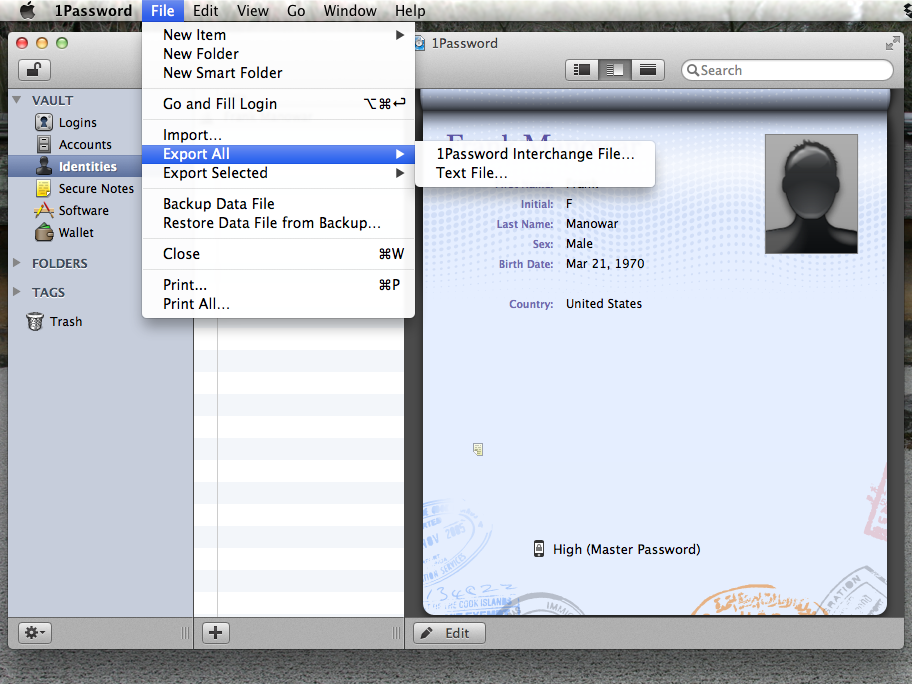 Convert 1Password Export
Download the STRIP Data converter onto your desktop and Unzip it. Double click the icon to run it.
Click "Source File" button and choose the 1Password export file.
Click the Save As button and save strip.csv on the desktop.
Make sure that "1Password .1pif" radio button is selected for Source Format.
Click "Run Conversion" to migrate the file to the Strip export format.

Verify Data (Optional)
There is now a 'strip.csv' file on your Desktop. You can open it in a spreadsheet editor to check its contents (e.g. OpenOffice.org, Numbers, Excel), or open it in a simple text editor. It's a good idea to check the data over for accuracy before importing it into STRIP.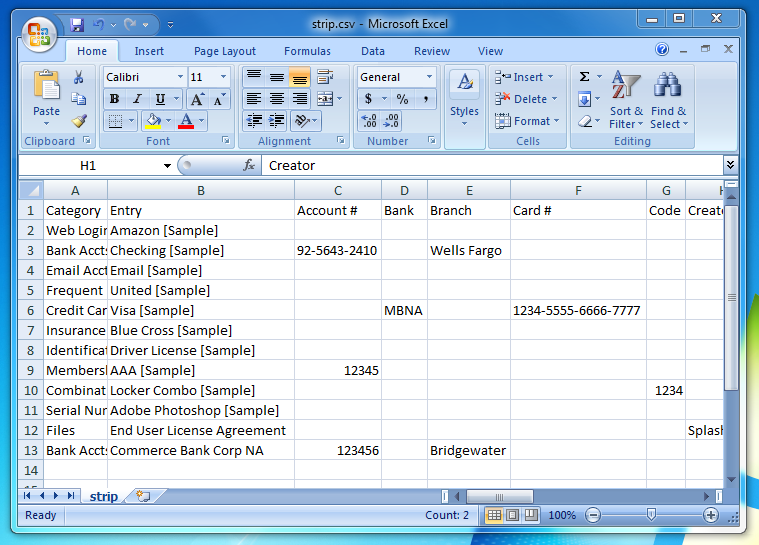 Import into STRIP
Log into STRIP Desktop or STRIP Sync, go to the File menu, and select "Import...", and choose the strip.csv file on your Desktop.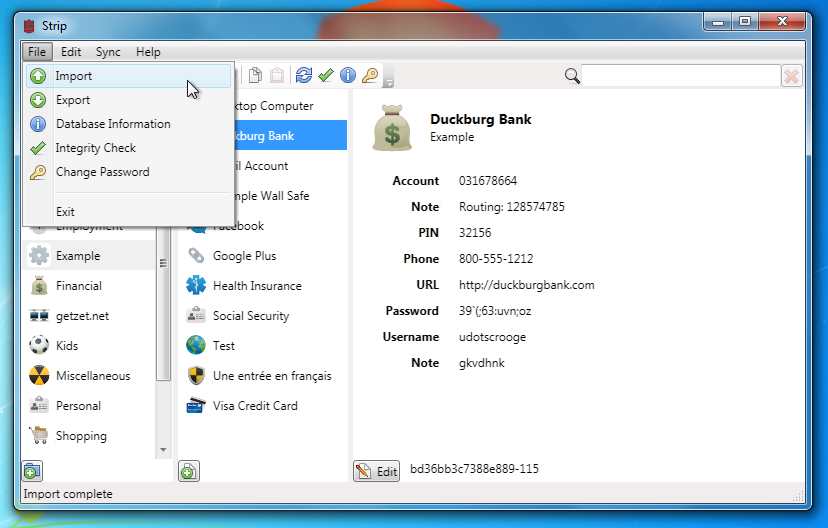 Once the import is complete you'll see all of your 1Password data right in STRIP! Once you've checked that everything looks OK in strip you should delete the two plaintext import/export files (remember to empty your trash, or even better, securely delete them).
blog comments powered by