Verifying Windows downloads
Codebook for Windows is distributed as an MSI installer package. The installer and the application itself are code-signed using Microsoft Authenticode technology. Code-signing Codebook for Windows allows a user to ensure the integrity and authenticity of the application on their machine. When the installer and application are code-signed, a digital signature is embedded within the files that can then be verified by Windows later. If the application binary was tampered with, the digital signature would become invalid and the user would be notified upon execution.
Code-signing alone is not enough, as malware too can be code-signed. Windows includes a feature called SmartScreen that is used to validate the reputation of an application. While many components are taken into account when determining the reputation score, code-signing is one part in which the origin of the software publisher, identified by the digital signature are utilized.
During installation, Windows will validate the digital signature embedded within the installer. The User Account Control displayed below during an installation shows the verified publisher based on the code signature: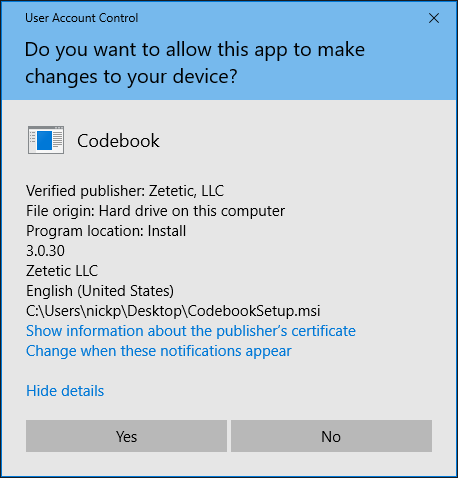 You can also manually check the status of the of the Authenticode signature embedded in either the application or the installer package by executing the following commands from PowerShell:
(Get-AuthenticodeSignature "C:\Program Files (x86)\Zetetic LLC\Codebook\Codebook.exe")
(Get-AuthenticodeSignature "CodebookSetup.msi")
An example of running these commands can be found below: